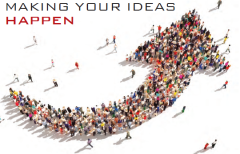 Instructors: MaryLynn Manns and Joseph Yoder
(email for more information)
Date: May 21 11:00am-2:30 pm EDT (New York timezone)

Instructors will be available after the workshop (2:30-3:30 pm EDT) to discuss your challenges in Making Agile Happen.

Description: If you are reading this, you know that Agile is cool. But perhaps, everyone in your organization does not. Are you facing challenges in making Agile happen? Are there resistors that are standing in your way? Bring your frustrations!
This is an interactive overview of Fearless Change strategies and how they can be used to help you make Agile happen in your organization.
In this workshop, you will:

Identify some challenges you face in convincing people to make Agile happen

Identify some well-defined solutions to some of your challenges
(and discover how you can find more solutions later)
You will leave this workshop with some specific strategies you can use right away!

Organizers' Bios
MaryLynn Manns, PhD is the co-author of two books, Fearless Change: Patterns for Introducing New Ideas, (also published in Japanese and Chinese) and More Fearless Change: Strategies for Making Your Ideas Happen, and a Professor Emeritus at the University of North Carolina in Asheville. She has given numerous presentations on change leadership at events throughout the world and in many organizations that include Microsoft, Procter & Gamble, Avon, and Amazon.
Joseph (Joe) Yoder (agilist, computer scientist, speaker, and pattern author) is the founder and principal of The Refactory (www.refactory.com), a company focused on software architecture, design, implementation, consulting, and mentoring on all facets of software development. Joe is best known as an author of the Big Ball of Mud pattern, illuminating fallacies in software architecture. Joe teaches and mentors developers on agile and lean practices, architecture, flexible systems, clean design, patterns, refactoring, and testing. Joe has presented many tutorials and talks, arranged workshops, given keynotes, and help organized leading international agile and technical conferences.