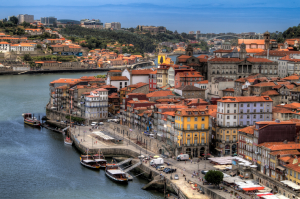 What better way to bring an end to the year than by returning to beautiful Porto, Portugal. During this trip, I'll be saying Olá to my friend and colleague Ademar Aguiar (along with others). He has asked me to come out to help work on an Adaptive Object Model project. I look forward to working on this exciting international project. During my trip, Ademar and Jens Ostergaard have inivited me to sit in and participate in an Agile Scrum Master Course they are teaching. Although I have quite a bit of experience with Agile and Scrum, I have never formally sat in on on a Scrum Master course so it will be enlightening to see the masters at work. :)
I'll be flying to Porto on December 3 and returning early December 16th. While I'm there, I will also be taking in the sites, maybe visiting Lisbon, enjoying the company of friends, and escaping from the cold Illinois weather. If you'll be in the area and would like to meet up, send me a message.
As the Cosmic Mud Tour comes to a close, it's a relief to PLoP down home again (fizz fizz). And how fitting that the tour ends up where it all began, at the Pattern Languages of Programming conference hosted by The Hillside Group at Allerton Park in Monticello, Illinois.
The Pattern Languages of Programs (PLoP™) conference is a premier event for pattern authors and pattern enthusiasts to gather, discuss and learn more about patterns and software development. The conference program offers pattern authors a unique opportunity to have their pattern languages reviewed by fellow authors, which occurs mainly in the form of Writers' Workshops.
This year marks the twentieth anniversary of PLoP, and as such it will be a special one. To start with, the conference returns to Allerton, where it all began, for the first time since 2007. To help us celebrate, may of our old friends will be joining new friends for a week full of events:
Writers' Workshops will review pattern papers, Writing Groups will help evolving patterns, Focus Groups will embrace challenging topics, our 'Birds of a Feather' (BoF) will let writers informally organize their own sessions. We've kicked it all off with a BootCamp that helps by introducing patterns to newcomers. To keep things lively, there will be Games to exercise our bodies and minds as well as trust building exercises. And since it's a celebration, there will be Gifts to give and get.
We're getting together this year to think about what the pattern community has achieved so far, where we are and where we're heading. It's been an eventful twenty years and we look forward to twenty more and beyond. If you're in town for the event, I'll see you there!